In-Office Coaching
Coaching Program
After an on-site practice analysis, your customized series of in-office coaching will consist of two-hour meetings, every other week for the duration of time needed to cover the topics for your individual practice needs.
The Coaching Program has proven to have results that are many times greater than other types of 1-2 day seminars or lectures, because the duration of time contributes greatly to ideas truly being implemented and becoming a routine part of the normal day to day operations of the practice. Having the entire team participate in the training allows your team to understand the systems that are being implemented as well as the interdependency of each member.
Our fee for the Coaching Program does vary based on the size of the group being trained. While most clients prefer a flat fee for the entire program, some prefer the option of paying a down payment plus a portion of the growth in collections.
Retainer Programs
Retainer Programs are for clients who have gone through a comprehensive coaching program and are interested in continued support. Two-hour team meetings are held at the desired frequency of each client based on their individual needs. Retainer programs include telephone, text and email follow up as needed.
Retainer program fees are based on the number of meetings held per year.
Contact Information
Clifton & Associates, Inc.
3825 Campus Drive
Thousand Oaks CA 91360
Practice of the year 2011
Gin H. Goei, DDS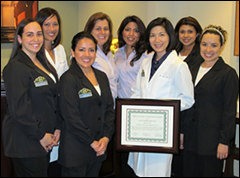 Working with Clifton & Associates was a highly rewarding experience for our office. Scott himself has a highly contagious energy! His coaching and perspective infused a heightened sense of direction into our team. While there were many areas of coaching, dissecting the entire patient experience from the first phone call through their visit to our office taught us how to improve our verbal skills, how to create a "WOW" experience and how each of us individually contribute to the patients' entire dental experience. We now have a more structured way of communicating with each other as well as our patients. We work so much better as a team expressing a clearer picture of needed treatment and care to our patients. In addition, the system for measuring performance and reviewing our numbers created individual accountability and showed us all how we contribute to one common goal. The concepts he helped us with encouraged growth with every staff member and growth in the practice in numerous ways. This program helped our whole team understand what it takes to be successful!