Practice Due Diligence
In addition to the in-office coaching programs offered, due diligence & practice transitions are services available to dentists who are in the process of purchasing an office. Our operational analysis digs deep into information about the office so a buyer can have the assurance that the practice they want to buy is being represented properly. The primary objective of our due diligence services is to help a buyer understand if the investment they are about to make is appropriate for the practice they will be acquiring. While the fair market value is important, understanding the current culture of the practice and the growth potential are also important to understand before making a commitment to this large investment.
Our on-site due diligence process begins with a thorough review of all documents provided by the broker and/or seller and then continues with an on-visit to the practice to obtain additional computer reports/documents, physical inspection of the office and meet the seller to discuss relevant questions and details about the office.
Information considered can include, but not be limited to the following:
Analysis of location, internet presence & patient reviews
Assessment of the facility, equipment & other physical assets of the practice
Analysis of practice operating systems
Analysis of production reports, procedures performed & potential growth opportunities
Analysis of collections reports, patient collection patterns, Accounts Receivable, credit balances, fees, and adjustments
Analysis of Profit & Loss statements, office overhead, net income and cash flow
Analysis of the patient base - active patients/patient demographics
Review of insurance plan participation
New patient counts/new patient referral sources & marketing efforts
Staffing level & employee compensation/benefits analysis
Meeting the employees (if appropriate for those that are disclosing the sale of their office)
Consideration of other relevant factors that may influence the current fair market value

After the on-site visit, additional time is spent carefully reviewing the findings with the buyer so they can make a well-informed decision.
Transition services with buyer prior to escrow closing:
Assistance with the many questions that surround the aspects of taking over the practice...this differs from doctor to doctor
Development of operating overhead budget
Employee paperwork and compensation packages
Advice on creating the office policy manual
Plans for notifying patients of the transition
Upon closing escrow, we facilitate a transition meeting with the employees to introduce the new doctor(s) and address the many transition topics at hand.
Clifton & Associates, Inc., nor any of its representatives are practice brokers, CPA's or attorneys. Other services, such as lease negotiations, forensic auditing, accounting or legal advice are beyond the scope of due diligence, transition and dental coaching and require the assistance of the respective professionals needed. References are available upon request.
Contact Information
Clifton & Associates, Inc.
3825 Campus Drive
Thousand Oaks CA 91360
Practice of the year 2015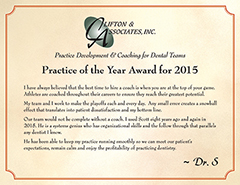 I have always believed that the best time to hire a coach is when you are at the top of your game. Athletes are coached throughout their careers to ensure they reach their greatest potential. My team and I work to make the playoffs each and every day. Any small error creates a snowball effect that translates into patient dissatisfaction and my bottom line. Our team would not be complete without a coach. I used Scott eight years ago and again in 2015. He is a systems genius who has organizational skills and the follow through that parallels any dentist I know. He has been able to keep my practice running smoothly so we can meet our patient's expectations, remain calm and enjoy the profitability of practicing dentistry.

~ Dr. S