Practice Due Diligence
In addition to the in-office coaching programs offered, another service we provide is conducting valuations for dentists. Some dentists are looking to sell their practices, while others are seeking a professional opinion when conducting due diligence for a practice they are considering purchasing. Assisting in determining a fair market value is the sole purpose of our valuation services offered. Clifton & Associates, Inc., nor any of its representatives are practice brokers, CPA's or attorneys. Other services that require those types of professional services are beyond the scope of practice valuations. We may be able to refer you to someone if those services are needed.
Valuations typically consist of an on-site visit to the practice to obtain reports, documents, and physical inspections to aid in determining fair market value. Information considered can include, but not be limited to the following:
Assessment of physical assets of the practice
Meeting the employees (if appropriate for those that are disclosing the sale of their office) and evaluation of compensation plans.
Reviewing production & collection reports
Reviewing profit & loss statements
Reviewing net income and cash flow
Evaluating new patient levels and marketing efforts
Evaluating procedures performed and potential areas for growth
Assessment of practice systems
Analysis of the patient base, demographics and insurance plans in which the practice participates
Evaluation of collection strategies, account receivables, fees and adjustments
Consideration of other relevant factors that may influence the current fair market value
In some cases, the dentist requesting the valuation may desire a formal written report, which can also be prepared.
Contact Information
Clifton & Associates, Inc.
3825 Campus Drive
Thousand Oaks CA 91360
Practice of the year 2015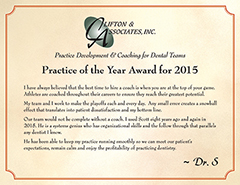 I have always believed that the best time to hire a coach is when you are at the top of your game. Athletes are coached throughout their careers to ensure they reach their greatest potential. My team and I work to make the playoffs each and every day. Any small error creates a snowball effect that translates into patient dissatisfaction and my bottom line. Our team would not be complete without a coach. I used Scott eight years ago and again in 2015. He is a systems genius who has organizational skills and the follow through that parallels any dentist I know. He has been able to keep my practice running smoothly so we can meet our patient's expectations, remain calm and enjoy the profitability of practicing dentistry.

~ Dr. S